Last night, in an exciting Twitter Spaces broadcast, Rhyheim Shabazz unveiled the highly-anticipated VoyR website, marking a significant moment celebrated by friends, family, and fans alike.
VoyR's Website Arrives
BREAKING NEWS. November 2nd. I was just able to join! I did not wait for captcha to work, and instead went on with the subscription process. It worked! You can use this link to join with a Special Offer! Once I have the chance to explore the new platform, I will publish a full report. JOIN!
There's no need for an introduction to VoyR. For nearly a year, we've been captivated by their content. Notably, VoyR's scenes have not only boosted traffic and followers on the creators' OnlyFans accounts where they were featured but also elevated the status of NakedSword.
However, the self-proclaimed "Netflix of Porn" failed to credit the new studio properly, labeling the videos as "NakedSword x RHYHEIM." It's understandable, though; Rhyheim's name still carries more recognition than the budding studio. It will take some time before we shift from calling it "Rhyheim's studio" to simply "VoyR."
On Wednesday, October 25th, Rhyheim's studio took its first step toward name recognition with VoyR.com coming alive. Since then, we've been able to explore the new website and get a sneak peek of what's to come.
On October 26th, VoyR took its second significant step as Rhyheim, along with Andy Rodrigues, Gael, and Alternativa, hosted a Twitter Spaces broadcast to introduce the new website officially.
The Launch Event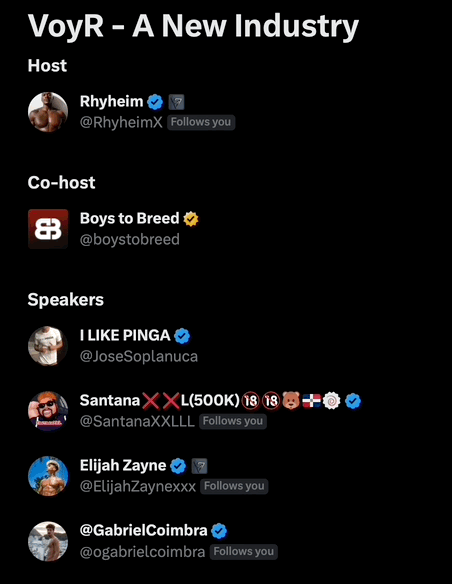 The event kicked off at 9 p.m. ET and lasted around two hours. Rhyheim opened with a brief message introducing his project and his Canadian partner, Aylo (remember MindGeek?). Both partners shared a vision of providing platforms for adult artists to thrive.
This blogger encountered some technical difficulties during the event (or perhaps Twitter Spaces did), preventing full participation. Despite these hiccups, the overwhelming love and admiration for Rhyheim prevailed.
Among the attendees were Aylo's representative, the Royal Prince Elijah Zayne, a host of adult content creators who collaborated with Rhyheim, devoted fans, industry insiders, and the proud Momma Strickland, who joined in celebrating her son and displaying her boundless maternal love and pride.
While there were attempts at a question-and-answer session, technical glitches made the conversation less smooth and entertaining. Instead, the event transformed into a series of heartfelt expressions from various participants. Adult artists who had worked with Rhyheim in various capacities conveyed their gratitude and respect based on their past experiences, as well as their joy for the current success and the promising new project.
There were numerous touching moments throughout the event. For this blogger, none was more heartwarming than Rhyheim's mom's heartfelt intervention. Attempting to paraphrase her would only diminish the love, faith, and heartfelt appreciation passionately conveyed by Ms. Strickland.
What we would have liked to say
We would've loved to join the celebration with a few words. The moment I was about to speak, we found out that Rhyheim's mom was present, and I was ecstatic about the opportunity to address her in front of everyone.
I would've told Mom that I wanted to join in on the warm words that all the speakers had just dedicated to her son. I would've shared with her that, like everyone else in the industry, I first fell head over heels for Rhyheim's massive, beautiful, succulent, and utterly edible member. However, it didn't take long for us all to be enamored by his brain, his open-minded intellect, his profound grasp of the sexual experience, and his inclusive attitude.
I would've confided in Mom that, like everyone else, I'm mesmerized by her son's perfectly rounded derrière, even though it may have gained a bit of extra padding lately. Beyond the mesmerizing allure of his posterior, what truly captivated all of us was his heart. When we witnessed Rhyheim's boundless generosity towards everyone and unwavering loyalty to his friends and colleagues; when we observed his love and nurturing devotion to Elijah, how could we not become his unconditional friends?
I would've let Mom in on the secret that, like everyone else, I'm fascinated by how Rhyheim transforms his lovers into uninhibited wild puppies. Yet, what indeed won us over was his leadership in reshaping the industry, turning adult artists' potential into tangible action, and actually making a difference in their lives and careers.
Lastly, I would've looked Rhyheim straight in the eye and reiterated how much I appreciate him, assuring him of the sincerity of my words, of every single word I have written or spoken. I'm confident that as long as he continues working, he will keep growing and succeeding. Meeting Rhyheim has been and will remain one of the most memorable and significant milestones in my personal journey.
The promise of VoyR
Rhyheim Shabazz has always been a man of action, backing his words with tangible efforts. He experimented with a groundbreaking collaboration model that we called "The Cooperative," aligning with his vision of inclusion, unity, and cooperation over individualism. However, venturing into studio ownership poses a new challenge.
One burning question arose during last night's discussion: What sets VoyR apart? Is it merely another studio in the crowded industry?
Rhyheim chose not to label it as a traditional studio. Instead, he described it as a platform for all adult content creators to collaborate, work, learn, and grow collectively. He invited everyone interested, and his Canadian partner swiftly mentioned a website link for applying to join VoyR's team.
I have confidence in Rhyheim, given my numerous interactions with him over the years. However, the partners involved in this venture are still somewhat of an unknown factor. While Rhyheim serves as the creative producer, it appears that the business side falls under Aylo's purview.
As an optimistic blogger, my optimism is not blind. The VoyR website shows promise, although I have encountered some glitches preventing me from joining at this time. Needless to say, an operational website is one of the essentials that Aylo should contribute to this partnership. We eagerly await further developments.
Last night was a sweet start.
Stay tuned.
Hasta la próxima pinga, amig@s!
josesoplanucas@gmail.com