May 2023 left us ready for Pride Month. Welcome to another monthly installment of I LIKE PINGA'S PORN DROPS.
Adeus Rita Lee
May 2023 delivered sad news. Brazilian singer Rita Lee died at 75. To honor her last wish, we reproduce her words, translated by Google with my assistance:
When I die, I can imagine the words of love from those who hate me. Some radios will play my songs without having to pay them to do so, colleagues will say that I will be missed in the world of music; who knows, maybe they'll even name a dead end street after me. The fans, those sincere ones, will take up the covers of my albums and chant 'Ovelha negra', the television channels must already have prepared a summary of my career to show in their news programs and some small obituary note will appear in certain magazines. In virtual networks there will be those who will say: "Uh, I thought the old lady was already dead, hahaha." No politician will dare attend my funeral as I have never been on the dais for any of them and would rise from the coffin to boo them. Meanwhile, I will be with my soul present in heaven playing my harp and singing to God: 'Thank you Lord, finally sedated'. Epitaph: She was never a good example, but she was good people

Rita Lee, May 2023
I am old enough to remember the 1980s when Lança Perfume was a light of joy in an otherwise dark decade. Rita was a friend to many discriminated-against groups. With her sex-positive discourse, she was a consistent ally of all sexual dissidence. She will be missed and never forgotten.
May 2023 at Voyr
In May 2023, Voyr continued inundating our screens with countless premium-quality porn scenes. I feel like I am saying the same every month. Eventually, I will get used to it and will drop this remark. However, the new studio's productivity continues to impress me.
Above, you can enjoy a photo taken by Alternativa. The hottie with Big Bro is Will Duarte, one of our favorite introductions of the month. If you want to see his work, you can join his OnlyFans.
Additionally, we have good news for many of our readers. Will offers escorting services and speaks English. I also have bad news. He is only top and is based in Campinas, which is not a touristic destination. Anyways, it is pretty close to São Paulo.
Voyr's website is still not functional as of May 2023. Most of its production is summoned at Rhyheim's OnlyFans and Naked Sword. Besides those two big porn hubs, you can find it scattered among all the porn creators teaming up in Big Bro's studio.
May 2023 @ Rhyheim's
The dimension of Voyr's production was impressive but not surprising. May 2023 did bring a surprise. Despite all the work invested in his new studio releases, Rhyheim had the time and energy to produce many unbranded videos for his fan pages. We noticed a significant increase in independent collaborations compared to recent months.
Above, we see Bruno. He is a local porn creator based in São Paulo. I tried to meet him last April, but he was touring out of Rio. You should join his OnlyFans; he has talent.
Bruno, Rhyheim, and Joshua Mateo collaborated in a smoking hot threesome. Unusually, Rhyeim did not share the credits for the cameraman, but his work was excellent.
Rhyheim's collaboration with Fernando Vilar was my favorite in his OnlyFans in May 2023. The video brought me back to Shabazz 1.0: pure hot sex filmed with amateur quality. In some moments, Rhyheim seems to be holding the camera; in others, a third person is doing it—porn gold. Fernando is based in Barcelona, and this is his OnlyFans.
Prado was another newbie who impressed us. Once again, we do not know who is behind the excellent camera work. Check his Instagram, join his OnlyFans, and pray he offers escorting services. He is based in Rio.
Here I want to insert our usual reminder. Voyr and "independent" Rhyheim have produced much more than my highlights. These picks are only my selections. I have not even been able to watch all their productions.
Happy Pride Month
If you are one of our loyal followers, you know this blogger is not a fan of gay politics and gay pride. However, the current Conservative wave forced us to review our political stand. Nowadays, I find the linked article vanguardist and disconnected from reality.
There is a war on all sexual dissidence. The progressive side is winning, but Christian Theocrat troglodytes are currently driving a reaction as we have not seen before in the USA. They won a significant victory on women's rights and many mini battles against women, gay, and trans rights in a few states, but they will lose the war.
We are not one-issue voters, but the choice nowadays is pretty straightforward. All craziness seems to be in one of the US political parties. Not only are we concerned about sexual minorities and women's rights, but about freedom from religion, academic freedom, xenophobia, the welfare state, and many other challenges where Idiotic America wants to drag us to the Middle Ages.
Because of that, we call for unity of the gay collective with other dissidents, like the trans movement. We call for unity of the entire Left to face the GOP in the next elections. Although Biden and the Democrats are not our dreams, they are the only option.
Please, register to vote. Please, support your local organizations and political and social leaders who fight for civil rights.
May 2023 @ Elijah's
Do we need to say that Elijah's OnlyFans is another option to find excellent Voyr Productions? Last month, the Royal Prince published only one collaboration in Rio's White House without the new studio's watermark and a few pictures that seem to be selfies taken in the Angelino White House. Besides that, I am afraid the Royal Prince took a break from working independently during May 2023 and focused his energies on the Royal studio.
Above, you have Elijah's only scene out of Voyr in May 2023: a threesome with Gael and Marcel Boom.
Did Max Konnor bottom?
Unfortunately, we cannot embed Twitter in WordPress any longer. The above illustration was taken from one of Max's May 2023 tweets:
It is unclear from the shared couple of minutes whether or not he bottomed. It instead looks like knocking at the door to me. Please let me know whether or not this is real if any reader subscribes to these two performers' fan pages.
In any case, it is a strange move. For a starter, it was not posted on his main Twitter account (695K followers) but in a backup account (4.3 K followers).
Then, he captioned it: "Who said I can't take dick?". Really? Was anyone saying that? I doubt one mortal does not know his past as Isaiah Fox.
Finally, and sadly, he created a hashtag for the non-historic event: #maxkonnorbottom. As of today, the hashtag has zero track. His fake bottoming debut may depend on how many clicks he gets with this bait.
Best Porn Drop May 2023
We do not know when this ride was filmed. It is taken from a 2'20" video posted by the Royal Prince on his Twitter in May 2023. We believe these 180 seconds of homemade porn are the hottest masturbatory nuke launched last month to the pornosphera.
Summer reading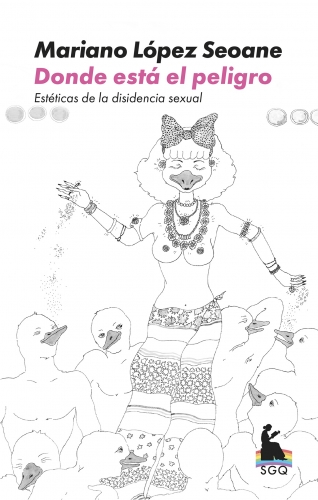 Does anyone still read books? I used to, but lately, it has become an activity restricted to the summers. I found a very appealing book, although unfortunately published only in Spanish so far.
Take a read at a paragraph taken from an article in Pagina 12, an Argentine newspaper:
A book that makes an exciting journey through the paths of queerness in North American culture as well as through the radicalization of sexual dissidence in Argentina, making stops at the distances, the deforming reappropriations, the resistance, and the fruitful traffic between the global North and South America. A book "not only for experts", predicted Cecilia Palmeiro, in the presentation organized by the publisher, two weeks ago, at the Book Fair.

taken from Silvio Lang's book review
Take a look at this very detailed summary on a PDF. I am dying to read it. In a few weeks, I will land in Argentina, run to a library, and get my copy, as it is not yet available on digital support.
Hopefully, I will be able to recommend it. Latin American social sciences and cultural analysis come primarily from European influences, and it is always refreshing to dive into an academic mindset different from the mainstream in the US.
May 2023 Free Live Sex Shows
On May 2023, the Netflix of Porn started offering a new bait: free live sex performances by famous porn stars. Unfortunately, I have not yet checked it due to bad timing and lack of attraction.
If you read my blog, you probably do not like their porn, so you probably do not care much about Naked Sword's offerings. However, they do have some hot performers, like Beaux Banks.
I would have taken a look should the timing be better. Perhaps you should. After all, they say it is for free.
May 2023 in Africa
Usually, Africa delivers terrible news to sex dissidents. May 2023 was not different. With support from their American Christian Theocrats brothers and sisters, one of the most repressive laws against homosexuals has been signed by the Ugandan president. The law calls for life imprisonment for everyone convicted of homosexuality.
But we also had more uplifting development coming from the Mother Continent. Namibia's highest court now recognizes same-sex marriages performed in other countries.
As we say in Spanish, one of lime, one of sand.
Stay away from Florida?
In last month's newsletter, we reported the first gay rights organization issuing a travel warning for the Sunshine State. Things turned worse in May 2023.
Two prominent national civil rights organizations, NAACP and HRC, issued a Florida Travel Advisory. These warnings address new state laws targeting diversity initiatives and the LGBTQ collective.
Sadly, the Christian Theocratic reaction goes beyond Florida. Look at this report about over 100 anti-LGBTQ+ laws passed in the last five years, half passed in 2023. Travel bans do not seem an effective response to this blogger.
May 2023 @ Guys In Sweat Pants
As usual, the studio teased us with only two scenes in May 2023. You can enjoy a sample of our favorite collaboration above. Veteran Liam Cyber introduces (and fucks) first-timer Benjy. Liam delivers an excellent performance as the top lover, and Benjyi shines as an expert submissive bottom.
It is a great scene, but I tell you a secret. Do not tell anyone, but I am not tired of seeing Liam bottoming. I want more.
May 2023 @ BiLatinMen
As always, BLM published a lot of hot sex in May 2023. We picked a couple of scenes to highlight, but the porn delivered by this studio is consistently good.
Above, you have one of my picks. Both boys are mouth-watering. Palanca, the one performing as a bottom, is also cast in another hot duo.
Our second pick is a versatile duo. We chose this one because the clean face boy is escorting in Medellin, where I may be in November. Yummy.
May 2023 @ BBA
In May 2023, Black Boy Addictionz posted some canned material from older times. Out of their new stuff, we highlight the collaboration between Kavii and Legend. We knew and always liked Kavii. Legend is the novelty, coming from an OnlyFans straight porn creator background.
He was willing to experiment, and we approved the first trial. Will we see more? Will Michael Galleta's magic to flip-flop curious straight guys work?
Mat 2023 @EyeFilmz's
EyeFilmz published many videos in May 2023. This blogger does not remember any other month with such an abundance in his OnlyFans, not even when working with The Cooperative.
He re-edited some old material, like the collaboration between Rhyhem Shabazz and Bruno en Rio de Janeiro. Did we share that we love this boy?
It is hard to choose, but out of all the new material posted, we highlight this threesome. His partnership with Sean Xavier is providing him with exclusive backstage records. There is much more with Felix Fox, Jake Waters, and many others.
May 2023 @ Sean Xavier's
Sean Xavier's OnlyFans was also in flames in May 2023. He is diving into his partnership with EyeFilmz, delivering many hot collaborations. Above, we see our first pick, this inspiring interaction with cutie Jake Waters.
Our second pick is this fabulous foursome with Sean Xavier, Jake Waters, Dillon Diaz, and GemTattedFrk. The formula now seems to be: you get the full movies at Sean's and the backstage varieté at Eyefilmz's. There is much more to enjoy.
May 2023 @ TimTales
In May 2023, Timtales continued releasing the premium quality porn we expect from them. But I only have eyes for Louis Ricaulte's new scene.
And we will stop our monthly report here. Gladly, May 2023 has been a better productive period for the porn hubs we follow.
Stay tuned.
Hasta la próxima pinga, amig@s!
josesoplanucas@baileywaldrup8