Max vs. Rhyheim contrasts two ways for People of Color to approach the porn industry. Guess which one we think is better.
White Porn
Before getting into Max vs. Rhyheim, let's infuse some context. For decades, US gay porn has depicted overwhelmingly White performers. You would expect a majority of White actors as we are in a majority White nation, but minorities were traditionally highly underrepresented and, when represented, highly stereotyped.
Nowadays, minorities are much more visible. Performers of Color have easier access to mainstream porn roles today, after a long history of struggle, with a suitable quote of heroism.
It was heroic the quest of their predecessors to earn a place in the porn market. We will never forget the epic years when independent creators would produce their VHS and CDs and then distribute them by hand in urban porn outlets. Then, in more recent times, just a few years before the pandemic, the struggle turned into creators and small studios trying to find a niche on the web or social media to reach their audience.
Today's increased visibility is remarkable. The independent boom during the pandemic and the anti-racist rising during the Black Lives Matter demonstrations pushed US gay porn industry to move forward up to the level where the rest of the businesses in the US are. I would confidently say that porn performers of color struggles of today are the same as people of color in any field, living in a racist culture.
Of course, there is much to do. We may see fewer White gay stars, but mainstream studios are in the hands of White owners and overwhelmingly staffed with White directors, screenwriters, camerapeople, photographers, etc. We celebrate the more inclusive casts, but the performers still work for White Studios, creating White Porn with ethnic casting.
In that context, Max vs. Rhyheim's contrast becomes more meaningful. DISCLAIMER: 1. we are not discussing Max's and Rhyheim's private lives but their role and image in the industry. 2. We are fans of Rhyheim's way.
Max vs. Rhyheim Round 1: Isaiah Fox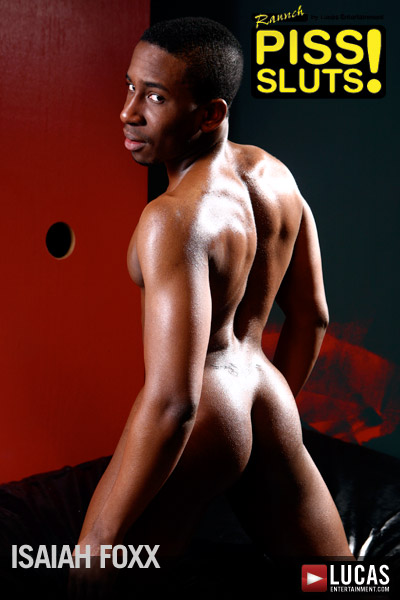 We used to like Max (remember, we are talking about the public persona). Back in the days when he was taking his first steps in the industry as Isaiah Fox. In those days, he was a sweet twink riding dicks with pleasure. And much more.
The first of his movies I found on record is Piss Sluts! by Lucas Entertainment. We are talking about 2009, before the streaming video boom. In those years, studios still released "movies," compiling several scenes. In this release, Isaiah was the protagonist in the third one. This is the press release description: Positioned at a double glory hole, Fox alternates between sucking two super hung black dicks. He soon dildos himself with a monstrous toy, riding it like a pro. After sucking the load out of one dick, the piss hungry boy drinks and bathes in the warm piss of his anonymous cocks. He continues to be showered by piss, and in the end, drinking and enjoying his own piss. This is one urine soaked scene you don't want to miss!
Working for Lucas was probably a beginner's mistake. After all, he was only 23 years old. We do not find movies with the allegedly racist producer's studio after 2009. Since that initial misstep, we would see him sharing the stage with many of our heroes from the epic years of Black Porn. Isaiah/Max worked for legendary brands like Pitbull Productions, Thug Overload, Raw Rods, Raw Strokes, and Treasure Island. These were the years before the Anti-Racist Awakening, and their productions reflected the marginalized and stereotypical imagery associated with Black and Latino men.
Isaiah/Max worked intensely for those alternative studios between 2010 and 2015. Mostly bottoming, he performed with icons like Remy Mars, Enigma, D'Angelo Jackson, Romeo Storm, Kannon, Sly, and many others. Isaiah was one of the hottest (to my taste) bottoms, with a cute athletic body and a voracious hole. He was part of an army of talented performers creating some of the best contemporary porn without being recognized by the mainstream industry. (Only D'Angelo would follow Max's steps to succeed in mainstream porn)
Max vs. Rhyheim Round 2: Max Konnor
After a three years break, Max returned as Max Konnor. Far from Isaiah's small twinkish looks, Max was buffed up by steroids and hard gym work. Additionally, Max switched from mostly bottom to only top. I know what you think if you did not forget that this article is about Max vs. Rhyheim.
Max Konnor has worked for many different first and second-line studios, many of them among our favorites: Ragin Stallion, Dawgpound USA, Black Rayne Productions, Noir Male, Cocky Boys, Raw Fuck Club, Men.com, Icon Male, Dark Alley Media, Peter Fever, Flava Works, Falcon, Hout House Entertainment, Naked Sword, and a few more. He has also directed a few movies, maintained his Fans page, and promoted other porn performers (his first attempt was Haus of Konnor, and currently is The Rising Stars).
Ironically, he is very popular among the Whites in my circle but not much among my Black friends. We are not interested in his private life misfortunes, even when Max makes them public, but to give you a general overview, no one can do it better than a Black voice:
The video is four years old, and this kind of criticism has been piling up after the pandemic and Black Live Matter. Pay special attention to the exchange about Knockout's name change to work for a mainstream White studio. Max does not seem to understand the point.
From my perspective, one of the most questionable moments would come in 2019.
Round 3: Max Konnor and friends
We picked Max Konnor for Max vs. Rhyheim because he is the most prominent, but he is not the only Performer of Color who has chosen this path to succeed in the industry. You can see some of them in this video, on the stage and clapping in the audience. The video is a screenshot from the account @maxkonnordaily.
In the 2019 edition of the GayAVN Awards, Max Konnor and Armond Rizzo won Best Duo Scene. The video above is Armond's acceptance speech, endorsed by Max and their friends in the audience. Armond had been a loud voice condemning Racism in the mainstream industry until then. They only needed a Troyan Horse like Noire Male to drop their complaints.
In this speech, they thank Noir Male, a White-owned and staffed studio, and Chichi LaRue, a White director and abuser of Performers of Color, for "finally elevating how Men of Color should fucking be represented in this industry." In other words, they thank the White owners and the White director-abuser for giving them a job and, of course, a trophy.
It is this self-centered blindness that annoys me the most. They are not making any difference for on and behind-the-stage non-White Adult Artists, but because they receive an award, it is a victory for People of Color.
Soon after that Award Ceremony, the pandemic and the independent boom arrived. As a consequence, the position of Porn Creators of Color significantly changed. Often we would find Max and others like him complaining in pod and videocasts about the newcomers (coming to take his throne as Black King of Porn).
Round 4: Max Konnor Today
Max continues his success in the path he has chosen. He won two awards in the last GAYVN edition: one as Supporting Actor and the other as Director. Besides, he is making changes that show he is willing to learn.
Max seems to be building a team! His independent collaborations showed a remarkable jump in quality since the independent boom. In his Twitter posts, he shares credits with his man behind the camera: The Exxxiled.
He dropped his agency project and is now trying a more collaborative model with The Rising Stars. He is moving closer to what others from the independent market were doing, with notable results.
Despite his success, the best news in his life is not coming from the porn industry now. Max's participation in an off-Broadway musical is filling his life with happiness. He recently shared in an interview that he started his porn career when he moved to NYC from Georgia to pursue a career as a regular actor unsuccessfully.
In the same interview, he seems to erase his first years working in porn and speaks of a five years long career. It sounds like he is ashamed of his beginnings. We may be wrong, but our interpretation of that denial makes us sad.
On the one hand, Max's stardom in the Porn Industry seems to have reached its ceiling. On the other hand, his need to be noticed is still flying high, based on his tendency to share his adventures and misadventures publically.
We wish him the best in re-taking his dreams to become a Broadway performer.
Round 5: Rhyheim Shabazz
Max vs. Rhyheim's most noticeable contrast is the length of their porn careers. Although Rhyheim Shabazz has been a sex worker since very early, his porn career did not start until 2019. We must always remember that fact; it is as easy to forget it as it is hard to believe that he has gotten so far in such a short time.
In February 2019, TimTales introduced a new masked performer, and the success was immediate. In two years, Rhyheim Shabazz reached one million followers on Twitter. Since that moment, if anyone still had any doubts, he became the most popular living gay adult entertainer. The best recollection of his rising is in this article.
Although he started working for a studio, most of his success comes from his independent work. In his entire four years porn life, Rhyheim performed only for two studios -European Timtales and US Cockyboys. We do not count VOYR's partnership with NakedSword, as it is not a job.
Rhyheim demonstrated to be a savvy businessman and navigator of social media and networking. Using his charm, he connected with porn creators of all kinds on an unparalleled marathon that eventually found him as the owner of a massive, diverse audience.
We picked Max to represent the performers who look for a spot on mainstream screens. Similarly, Rhyheim represents a long line of Adult Artists of Color who fought to stay independent and worked hard to build their own creative brand.
Round 6: Shabazz 2.0
In Max vs. Rhyheim, we are flying through time. In more detail, we summarized the evolution of Rhyheim Shabazz's brand in this article. Once established as a Porn Power House, he took his first steps toward formalizing his modus operandi. Big Bro transformed his former home into the White House of Porn.
During his early years, Rhyheim focused on systematically hooking up with performers with a big audience. With his talents and hard work, that was the single secret for his growth: reaching new audiences and trusting they would like and follow him. From his new White House, it was time to reverse the effort.
Once nobody had a following more significant than his, Big Bro focused on systematically supporting new or less-recognized talent. Instead of creating an agency or only advertising other porn creators, Rhyheim would share the benefits of their collaborations by allowing them the initial exclusive.
So far, he has never been part of any scandals or gossiping campaigns. Rhyheim has never publicly criticized other porn creators. Consistently, he has shown a tendency to work in teams. This blogger has interacted with him since his beginning and has never caught him on a lie, a double standard, or a hypocritical stand. His motto in his OnlyFans is "I'm about creativity, respect, honesty, and unity." So far, Rhyheim has met his word."
All his success comes from his charm and hard work and the delivery of a premium quality product. Rhyheim is Porn's No Drama, Obama.
Round 7: VOYR
Shabazz 2.0 was a transitional and short stage. Soon, we would see the arrival of the following upgrade: Voyr. A risky upgrade, we must say, and one that brings another significant contrast to Max vs. Rhyheim.
Rhyheim was safe in Shabazz 2.0. He only needed someone behind the camera and a bouncer at his door to manage the long line of candidates to collaborate. However, he decided to double down on his bet and invest his prestige, influence, and money in creating a studio. He moved the core of his operation from Los Angeles to Rio and inundated the market with premium gay porn. Thanks to his bet, the best porn available nowadays is produced, filmed, and performed by People of Color.
Once he created his own, he could face the studios as equals. Rhyheim developed a partnership with Naked Sword that is still evolving after consistently delivering scenes to the top charts. We notice some resistance on behalf of NS to recognize the new brand. You see Rhyheim's name in the titles, not Voyr's Brand, but I am confident this situation will change. It may be related to copyright issues while the new studio is fully set up.
Rhyheim is not the first Black Man who starts a studio for and by People of Color and their admirers. He was the first to create one that could negotiate with the Mainstream Industry on equal terms and, in the process, took over their audience.
Max vs. Rhyheim: Final Round
As we said before, Max vs. Rhyheim's purpose is to contrast their ways of approaching the porn industry. We can identify many differences, but the most important from our point of view is their differing understandings of the problem of Racism.
I cannot tell that Max is dumb, as the video blogger shared above on Youtube. Whether he is not bright or just selfish and delusional is beyond our interest. The fact is that he has a superficial understanding of Racism. Max understands Racism when he suffers its consequences but forgets about it when his White bosses recognize him. Do not forget; Max is just the icon we chose to represent this way, a path followed by many minority artists.
In contrast, Rhyheim shows a much deeper understanding. Big Bro knows that the problem of Racism is a problem of Power. It is not about gaining more visibility and representation. It is not about not being discriminated against in the job market. It is about controlling the production and the job market.
I cannot tell whether Rhyheim is bright or a control freak. Whether his understanding comes from a privileged mind or a selfish need to not compromise with others is beyond our interest. The fact is that Big Bro has the ambition and the purpose of stopping only when there is no more power to gain.
Additionally, he always understood the importance of teamwork and building community. He never created an agency like Haus of Konnor, replicating the business model from the mainstream industry. Instead, he directly shared his audience with the guys he chose to support.
This is only good news for all of us. Rhyheim has always shared his Power. If he gets more, we all will become more powerful.
Max vs. Rhyheim: my final words
If we consider Rhyheim Shabazz's exceptionalism, the contrasts we draw in Max vs. Rhyheim may be unfair. Yet, there is a meaningful difference.
Rhyheim has been able to compromise with mainstream businesses (first, the banks and OnlyFans. Then the studios) without losing his independence. He has built his success on consistent collaboration and strategic use of mainstream studios. If his circumstantial partners were willing to take the advice, he would train them to be independent creators and self-made businessmen.
I understand how hard it is for the immense egos of some traditional porn stars (remember, Max is not alone) to accept a newcomer having more success, influence, and popularity. Perhaps they can find comfort in the awards granted to them by the mainstream industry. But they need to accept Reality.
The Reality is that this is not about any individual achievements. This is about a systemic problem that can only be overcome with Power.
Rhyheim's exceptionalism makes him an outstanding individual. But at the heart of his exceptionalism is his understanding of community and his ambition to take it all and share it with all.
If I were a traditional Gay Porn Star of Color, I would swallow my pride and support his effort, but I'll make it simple. Do you want a job in a mainstream studio? Sign up for Max. They will love you for providing them with diversity credentials. Do you want to develop your brand and manage your adult entertainment career? Sign up for Rhyheim.
Stay tuned.
Hasta la próxima pinga, amig@s!
josesoplanucas@gmail.com