July 2023 brought us one of the hottest summers in recorded history. Is porn contributing to global warming? Welcome to another installment of I LIKE PINGA'S PORN DROPS.
Our Favorite July 2023 Porn Drop
Let's start our report with our favorite porn moment of the month. Andy Rodrigues and Sandriias delivered a pornographic masterpiece. At this point, Sandriias is indeed THE revelation of 2023.
Pride in Latin America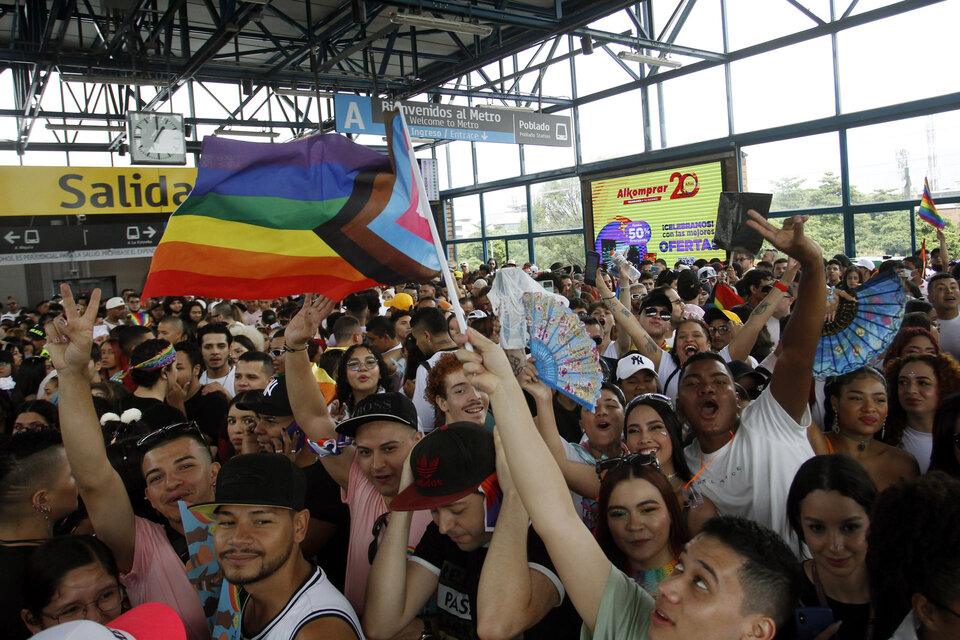 During July 2023, Pride celebrations continued throughout South America, breaking all previous attendance records. Read the entire report in Pagina 12.
The scare of the month
In July 2023, Roman Todd's overdose scared all of his fans. We tried a reflection on how we are using and abusing substances nowadays, but we failed. The boys were not interested in introspection. They just wanted to go after their irresponsible dealer.
Fortunately, Roman is recovered and working—the drama is out.
July 2023 @Rhyheim's
Rhyheim worked hard, as usual, in July 2023. Besides his duties as a producer for Voyr, he is fully back to slutting in the Original White House of Porn. EyeFilmz continues documenting his collaborations when they are not watermarked for the studio.
We cannot report all of Rhyheim's independent releases this month, as we do have a life. Our exclusive selection includes Khaos Leon, getting head in the illustration above. We had never heard of him before, but we hope we will see more of him.
Our second highlight is Rhyheim's collaboration with beautiful Damien Cruz. Big Bro and his Filipino visitor underwent an extended sample of all positions, and this blogger cannot help but wonder whether he should add Manila to his trips.
To close our section on Rhyheim's production, we chose a classic in the Shabazz Universe. Porfi has been gravitating around The Cooperative from the beginning. He is one of the most talented independent creators, although the mainstream industry still ignores him.
We are glad to see him back in the White House. Porfi also performed in a foursome, but we highlighted his smoking hot duo with Big Bro—Long Life to Porfi.
The aliens are among us.
If you read the papers, in July 2023, we had a lot of conversations about whether or not we had made first contact. This blogger found the ultimate proof. Click on the image above and watch the video. They are here.
Falcon Endless White Summer
Have you seen Falcon's launch in July 2023? When I look at the picture, I feel something is missing. Perhaps a touch of color?
July 2023 @Elijah
The Royal Prince had a very busy July 2023. His collaborations were recorded by EyeFilmz, who has become the principal videographer for The Cooperative's independent productions.
Elijah introduced us to Carlos, who amazed us with a stellar performance as a bottom. We hope to see more from this Latin beauty.
Our other choice comes without new faces. Elijah collaborated in a threesome with two talented and well-known performers: Romeo and Icvros. And there is much more. Join Elijah's OnlyFans and find out.
Cover Boy
In July 2023, Rhyheim Shabazz's first cover was in a mainstream porn industry magazine. Of course, Rio de Janeiro is in the background.
Next, Vanity Fair.
July 2023 @Gus in Sweatpants
Austin Wilde's studio released only two scenes in July 2023. Although both are excellent, choosing which one to highlight was easy. We are huge fans of both the studio's owner and Liam Cyber. Their collaboration caused the depletion of my lube supply.
Free Speech Coalition Against Discrimination
The Free Speech Coalition (FSC) has sent an official letter to the Consumer Financial Protection Bureau (CFPB). The communication asked regulators to address discriminatory banking practices affecting adult businesses and workers. You can read the entire document here.
July 2023 @Alternativa
JotaPê posted several videos in July 2023, including a few with the Voyr watermark. However, our favorite is the flip-flop between Gael and Andy backstage. Camera credit belongs to Pedro, an adult artist not yet recognized enough. Join Alternativa's OnlyFans.
Good Science News
July 2023 gave us hopeful news in the field of battling against the HIV pandemic. A sixth patient seems to be in remission. Check all the details in this report by NBC News.
July 2023 @Gael
Gael posted a combination of independent collaborations and productions with the Voyr brand. Our first pick is a memorable flip-flop scene between him and Andy Rodrigues. The performances are outstanding. Of course, as with all the movies with the Voyr watermark, talented JotaPê was behind the camera.
Our second pick is one of his independent collaborations. Pay attention to Gael's partner. I have seen Curly Boy in other scenes, and his bottoming skills and good looks always shone on my screens. As in most of Gael's independent collabs, this one was recorded by a rising talent: Pedro.
Eric Rey in Cockyboys
If you follow I LIKE PINGA, you know we are very fond of Eric Rey. In July 2023, he had his debut for Cockyboys. The other guy is cute, but I can only pay attention to Eric when he is on my screens.
July 2023 @EyeFilmz
We do not remember a month more productive than July 2023 for EyeFilmz. The pause in his partnership with Rhyheim favored a significant increase in the number of porn creators he works with. Above, you can see one of my favorite guys, Sonny. This beauty offers escorting services, but we have not yet called him. EyeFilmz not only documented this solo but several collaborations with him and other creators, from duos to groups.
Our other pic is this smoking-hot collaboration between Fitness Papi and Roxas. I am impressed at Roxas' growth performing as a bottom.
Besides, there are many other scenes and backstage editions. They are hard to date sometimes, as often EyeFilmz recycles footage from his immense archive. We counted 21 videos published only in July 2023.
July 2023 @Sandriias
As predicted, Sandriias' association with The Cooperative has significantly increased postings on his OnlyFans. We have already celebrated his exceptional collaboration with Andy Rodrigues, available in his OnlyFans. Above, you can enjoy a little sample of another extraordinary performance. Under the Voyr umbrella, his interaction with Rocco is memorable, skillfully documented by Alternativa.
There have been other independent collaborations this past month besides the legendary scene with Andy Rodrigues. However, we chose to highlight another Voyr production. This threesome between our boy, Lucas Dias, and Marlon Costa is a virtual Viagra. Camera credits belong to JotaPê and Pedro.
July 2023 @BiLatinMen
As in every month, BiLatinMen delivered tons of hot sex in July 2023. However, this blogger is picky. I found only one very attractive (to me) performer, and therefore his scene is the one I choose to highlight. But you should check the other clips; they all are excellent porn.
July 2023 @BBA
BlackBoyAddictionz published three videos in July 2023. Two are recycled materials, with a few of their classic performers. We highlight the new footage and last published clip, a mouth-watering fuck with Juju and Rico Pruitt. We are glad Juju started a Twitter account and remain hopeful we will see him bottoming. In my fantasies, he already has.
A special mention
I mentioned before that Sandriias was my pick for Porn Revelation this year. I did not say I had a new favorite because I thought he had retired. Fortunately, I learned he changed his mind after shutting down his OnlyFans.
Please, pay attention to TJ Marxe. His beauty and talents in the sack astonished me when I first saw him collaborating with Elijah in March. I was again very impressed at his performance with Rhyheim in June. In July 2023, I saw him in a few collaborations in EyeFilmz's OnlyFans, where he is always masturbatorily inspirational. Soon, he will open a new OF account, and I am sure we all will want to subscribe.
July 2023 @Timtales
In July 2023, TimTales brought us back Nelso Garcia. We were impressed at his debut in the same studio last month and are even more impressed now. He rode Nano Maso's gigantic cock with lustful grace and joy.
That's all, Folks!
And now, I am going for a refreshing shower and a frozen margarita.
Stay tuned!
Hasta la próxima pinga, amig@s!
josesoplanucas@gmail.com